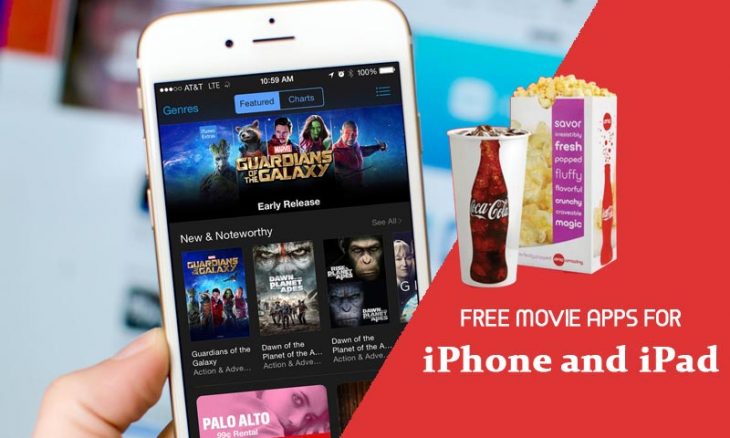 Everyone loves to watch movies and tv shows for free and Apple has a number of exciting apps for them. It has free movie apps for iPhones and iPad. There are a few of the apps that allow you to stream movies and tv shows on your Apple TV for free. These free movie apps are super cool as they have a great collection of classic shows and movies. Although you cannot stream the latest movies on these apps, you will be surprised to find an exceptional collection of movies in them. This is a good way to start your own zone of entertainment.
You can select any of these apps to start watching movies anytime on your Apple TV. Some apps work only on Apple TV while some can be played across devices like iPhones and iPad. Few of them belong to the public domain which means it does not monetize the app using ads. There are apps that have amazing free content and movies but come with fewer ads. You cannot download movies from these apps yet you can download the app and watch movies or shows anytime. We have got 12 free movie apps for iPhone here to help you out selecting the best app.
Top 12 Best Free Movie Apps for iPhone or iPad 2019
1. Rewinder
Rewinder is one of the best public domain apps that you will find on Apple. It has some of the finest classics of all time and a huge collection of entertaining content. It is also having the largest library of free films. You can sit back and enjoy classics like The Lady Vanishes, Alfred Hitchcock's The 39 Steps and The Man Who Knew Too Much. You can find iconic classic actors like Charlie Chaplin, Three Stooges, Buster Keaton, Frank Sinatra, Harold Lloyd, and many others. If you are into documentaries then this app is a boon.
You can find plenty of short documentaries from the 1940s and 1950s like What to Do on a Date. There is a great collection of B-movie masterpieces like the Night of the Living Dead, Dragnet, Groucho Marx, The Lucky Show and many more. Definitely, this app has one of the biggest collections of classic movies.
2. Popcornflix
Popcornflix is a free mobile app for iPhone that has great quality movies. In fact, it is available for Android, Samsung TV, Roku and Amazon Kindle. This does not require any kind of subscription or signing up to watch movies. You just have to download the app and arrange a list of movies you want to watch. You can come back and binge watch them anytime you want. You can also share the movies you like on Facebook and Twitter. There is an unlimited range of genres available for you to choose from. On almost every day a movie is uploaded here which is a great advantage for movie enthusiasts. A number of documentaries and foreign films are also among their collections. You can enjoy watching the full-length featured movies in HD quality.
3. Sony Crackle
Sony Crackle is yet another cool movie app that is compatible with iPhone, iPad or Apple TV. You can easily download this app and start enjoying Hollywood movies, Sony Crackle Originals and TV shows. You can choose from so many genres including comedy, romance, action, sci-fi, family, documentaries and more. It also includes a spotlight channel named What's on now, and that will view the top picks of movies selected by the Sony Pictures. You need not to subscribe for this; there are no requirements for additional wiring also. You can create an account to personalize your experience. Crackle sends you a notification about the latest shows airing too.
4. Free Classic Movies
As the name suggests, you can start watching numerous classic movies without being bored. It has all the epic collection of silent movies including Douglas Fairbanks in Robin Hood, movies by Buster Keaton and Charlie Chaplin and Trip to the Moon. Free Classic Movies also offer a collection of cartoons and noir. You can revisit the classics like Charlie Chaplin's The Vagabond, F. W. Murnau's Nosferatu, Robert Wiene's The Cabinet of Dr. Caligari, Fritz Lang's Metropolis, Orson Welles's The Stranger and Hitchcock's The 39 Steps.
5. SnagFilms
SnagFilms is one great app that is highly recommended by many iOS users. It has famous TV shows in full length, movies, and documentaries in HD quality. It can be watched on any iOS device making it highly versatile. There are a lot of categories to choose from including kids, romance, horror, action, etc. You can also switch languages and binge watch movies in your favorite language. There are Spanish movies, African movies, Korean movies, Asian and Russian movies. You can add movies in your wishlist and the app plays the movie from where you last left. It has over 5000 movies, feature films, documentaries, and TV shows.
6. Viewster
Love all the anime shows from Japan? Viewster is the app that you should download. You can now choose the direct feed of Japan. Indeed, you can choose from the top-ranked anime shows and movies. These are highly appreciated for giving access to some of the favorite shows to all people. Sometimes people do not recommend this app as it buffers a lot. The movies provided are good and are available in HD quality. You can easily get access to all the licensed content here. It comes with Airplay and Chromecast support. The most attractive part about this app is that it has a great number of foreign movies. This actually gives you the feeling that it is better than the paid movie apps.
7. Viki
Viki is a hub of international movies and TV shows from all over the world. You can watch the very famous TV shows from Korea, China, Japan, India, and the US. Additionally, you get subtitles for all these shows. This is one app that has the least number of commercial ads. You can binge watch the popular shows of these countries by sorting them into country-specific shows. If you love the classic shows of the US like Felix the Cat, The Beverly Hillbillies, The Adventures of Robin Hood, Casper the Friendly Ghost, The Lucy Show and more, then this app is the best. These are the classics that nobody will want to miss.
8. Movie & Show Box Tv Hub
Are you looking for a free movie app that gives you most of the amazing latest movies? Movie & Show Box Tv Hub is full of the latest movies which you can watch on your tablet, mobile or Mac. The best part is that it is available in every platform including Andriod, Kodi, PS4 and all iOS devices. This is one of the best free movie apps for iPhone available today. There is a separate Movie & Show Box Tv Hub PC version for all large-screen movie lovers. You can create exclusive watch-lists from the different genres available. Another best thing about this app is that you can enjoy all these movies in HD quality.
9. Public Domain Movies
You will just love Public Domain Movies as you can choose hundreds of movies from it. You can easily sort them by genre, year, actor, writer, director, etc. This is a convenient app for getting access to classic movies. Some of the top picks of the classic iconic actors you can trace down through this app include Fred Astaire, Laurel & Hardy, Kirk Douglas, Abbot & Costello, Cary Grant, and Charlie Chaplin.
10. Classix
Classix is one of the apps that has the highest number of classic movies, sci-fi, horror, silent movies, film noirs, and much more interesting content. This is a complete package for everyone who will love watching movies of every genre. It uses the Internet Archive to give your iOS device with such amazing movies and you should also aware of a few iPhone spyware to protect your device from data loss or hacking and enjoy your weekend with movies and popcorn. Movies like Night of the Living Dead, House on a Haunted Hill, Plan 9 from Outer Space, Lady Frankenstein.
11. Tubi TV
Tubi TV is a great app that is available for free yet has a good collection of recent movies. This has got ads and commercials so as to monetize the app with new movies. This may be a little annoying but you get superb movies. If you love Korean drama, then this is a great app for you. It has plenty of anime content too. Surprisingly it features movies, dramas and TV shows that are highly rated on Rotten Tomatoes. You can sync the app with online devices like Roku and Apple TV. Also, you will not require any subscription, sign in, etc. You can download the app to watch movies and also save some for watching later.
12. Pluto TV
You will need a cable TV service to enjoy movies from this app. You cannot watch movies and TV shows on demand with this app. But there is a viewing guide with different programs that get aired at specific times. This viewing guide is given in several categories and you can easily choose one among them. There is a category called the Memory Lane and you can find the best classic movies or shows here. It is very exciting to watch movies in this service.
These were the free movie apps for iPhone. The best part about most of these apps is that you can download the app and watch movies anytime you want. Except for the Apple TV exclusive apps, you can carry your favorite movies anywhere you go. If you are not a movie person, there are some of the best RPG games for both Andriod and iOS. These are cool games that you can play by just building your own characters and stories. Some of the best RPG games include Beamdog games and Another Eden. These are fun and interesting.