Role Playing Games excites people of all ages. It is a virtual game yet experienced in real-time. These mobile RPG games are fully in the hands of the user as they create the characters and the storyline. Also, this is one of the biggest gaming platforms that are available on Android. A player has a lot of choices to select one RPG game on Android. So here are some of the coolest and the best RPG games for Andriod. This list will help you select mobile RPG games according to your expectations.
20 Best RPG games for Andriod in 2019
1. Another Eden
This is a newly released mobile RPG game in 2019. Another Eden is receiving good reviews and people are starting to like it. This game was written and composed by the same people who had previously launched a Chrono Trigger. This is a game that revolves around the players who need to save people including their sisters from the bad people. The surrounding of the game environment looks amazing.
2. Siege of Dragonspear
Siege of Dragonspear games is a package of six different games. They are well-known in designing exceptional PC RPGs. This will include some of the famous games like the Baldur Gate, Icewind Dale, Planescape: Torment, Baldur Gate II. The mobile RPG games will include Seige of Dragonspear. All the Beandog games are really large that need long storylines. This involves a deep character building feature too. This eventually means there are more difficulties. Also, it is recommended to play these games in tablets than even on large phones.
3. Doom and Destiny Advanced
If you are familiar with the Doom and Destiny, then this is the reboot of that version. This is one of the best RPG games for Andriod and will be loved by retro fans. The game is highly interesting and involves a lot of monsters to fight, tons of dungeons and secrets unveil. It actually features a lot of characters from the previous version but with a very unique storyline. This is also a game that has excited a lot of mobile RPG games in the previous years.
4. Eternium: Mage and Minions
Eternium: Mage and Minions is gaining popularity as a lot of people have started liking this game. It has also bagged many positive reviews from around the world. This is a free game available for Andriod on Google Play Store. This game is exciting and includes skeletons, beasts, robots, aliens, etc. As this is a freemium game, it will get tiring because of the repetitive nature. But you will surely love the game for the new things you find and gather.
5. Exiled Kingdoms RPG
Exiled Kingdom is an RPG in which you will save the world from the effects of a previous cataclysm. Although the graphics of the game are not really good, this has exciting features for a freemium game version. In the free version, the player can make use of two characters to play with which is great. When you get the complete version, all characters are unlocked. This has got all the features of an original RPG game. So this makes Exiled Kingdom one of the best RPG games for Android.
6. Evoland and Evoland 2
These two games are exciting as they have a variety of mechanics. It includes a lot of fun things like puzzles, 3D fighters, hack-and-slash, trading card mechanics etc. The game environment is also dynamic with game mechanics. Still, the game maintains its core feature which is RPG. It can also be played offline. These are paid apps but both are free from ads and in-app purchases.
7. Fire Emblem Heroes
Both of these games are from Nintendo. Fire Emblem Heroes is a wonderful game that you can find in the mobile RPG games. You need to move on a checkerboard and then defeat the opponents. It has all elements of the best RPG games for Android. This is inclusive of an interesting storyline, social aspects and gacha. Dragalia Lost is also a good RPG which colourful and filled with exciting soundtracks. These are some great launches made by Nintendo.
8. Kemoco: RPG Bonds of the Skies
Kemoco was one of the first developers of mobile RPG games for Andriod. Now, there is a number of RPGs which are excellent. They include Machine Knight, Alphadiga saga, Origin and more. They are all available in not more than $5 which is a great advantage. Some are also available for free. These use graphics that were used during the 1990s to the mid-2000s. All of them satisfy the player with their features. But they may not be the preference of many. There are plenty of games for you to choose from game reviews.
9. Knights and Pen and Paper +1
This is one of the best retro games in which you go through challenges, unlock or find things and then fight the opponents. This gives you an amazing 2D experience while playing. So this just apt for people willing to enjoy the 90s graphics. It has fe2 types of heroes like knights, mages etc. Also, you get to enjoy plenty of customizable features with this game.
10. Langrisser
Langrisser is a classic computer version which was recently released in the mobile version. It is also one of the freemium mobile RPG games. The players in this form a group and fight collectively against the evil. This is more like the PC game but has additional features like PvP mode, story mode. The fans of the older version will just love this SRPG game. But this is a little slower than other RPG games. This may not be liked by players who love a fast mobile game.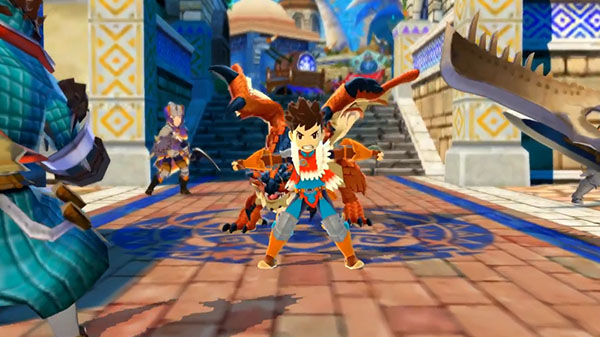 11. Monster Hunter Stories
This was released in the year 2018 and it did become one of the most liked RPGs of the year. The mechanics are turn-based and has good graphics. The storyline is also decent. This is just like all other RPG models available. One big advantage is that the demo version of the game is great. However, the game is costlier than most of the other mobile RPG games.
12. Portal Knights
If you love elements like the sandbox, hack-and-sash, local multiplayer options, then Portal Knights is a good choice. This has got endless content that you will keep on going to disclose for new things. This is a speciality of most RPG games available. Portal Knights has done that in a big way. The storyline is not too good but the additional elements save the game.
13. Sorcery 1-4
This consists of four games and with them, you can explore an all-new world and you can also time travel with this game. This is so unique that you will have to make plenty of decisions. The functionalities are a bit at the high level but you can enjoy thoroughly. This is also not available for free.
14. Square Enix Games
Square Enix Games has emerged as one of the successful gaming companies. It has also achieved the feat of launching the best RPG games of Android. They have released some great games like Dragon Quest and Final Fantasy. Also, these are releasing in many versions which are getting improved day by day. These games are available from freemium to payable versions. They also have a wide range of strategy RPGs like Final Fantasy Tactics.
14. Yet Another Pixel Dungeon
Just like the name suggests this is yet another classic dungeon crawler game. The controls and graphics are all kept simple but there will be four difficulty levels to cross. Also, there are a number of characters to choose from. This is a lot of fun but it is trickier than the rest of the other RPG games. Additionally, this is one of the cheapest and the best RPG games for Andriod.
16. Final Fantasy
If you are a lover of the classic mobile RPG games then you cannot miss this. This is a complete fusion of classic games but with modern graphics. This is definitely the attracting aspect of Final Fantasy from Square Enix Games. It has a lot of special effects, weapons and different enemies. The story revolves around the classic tales like the world is in danger and the prince goes in search of a crystal ball to save the world.
17. The Bard's Tale
This is a wonderful game with a great gaming environment. It is set in the Middle Ages where you can defeat the enemies. A number of warriors also surround you to help you out. This is a paid game only.
18. HIT
HIT is Heroes of Incredible Tales and is a game created by Nexon. This is super fun to play as there are several adventures to enjoy throughout the game. You can spend a lot of time customizing the costume. There are several additional features which are not included in the main storyline. This keeps you engaged and you can enjoy some real mobile RPG games here too.
19. Postknight
This game is certainly a tale where a little knight goes around the kingdom making deliveries. He meets a lot of other people who tell different tales too. This also involves battles. It is a super fun filled game.
20. Star Wars™: KOTOR
This is very similar to the PC version of the Star Wars game. This is a specular game set up 4000 years ago. You can either join the Jedi Knights or the Sith to fight the greatest war. So you have the decision making process with you. Also, you get to see some of the coolest locations as it is there in the series. This is a wonderful game for all Star Wars fans.