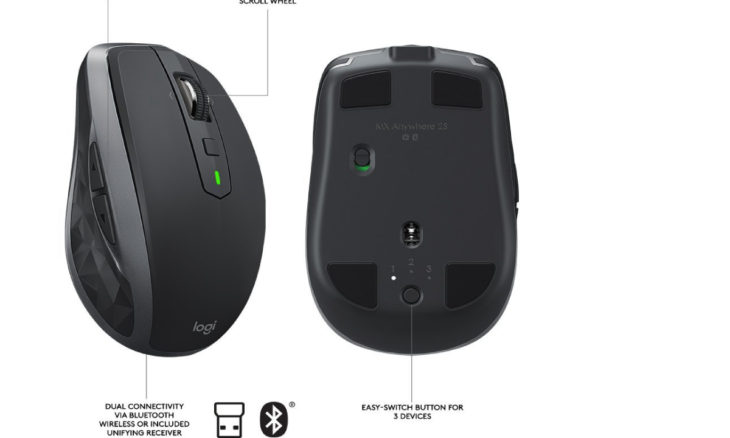 Actually, It is not easy to find the Best Cheap Gaming Mouse on the market. If you never purchased before. Finding the best budget gaming mouse is getting tougher every single day with new Mouse models entering the Market. If you are a beginner, it's important to know that you don't need to invest more Money to buy a quality Gaming Mouse. Because advanced level Gamer sometimes uses relatively simple Mouse which has a great quality/price. Also, you can Build your own gaming laptop and Play High-Performance game with Cheap Gaming Mouse. If you are looking for trustworthy Cheap Gaming Mouse reviews, you came to the right place.
In this article, we are going to check out the 5 best gaming mouse 2019. I made this list based on my personal opinion and I tried to list them based on their price-quality durability and more. Let's get started
1. Logitech MX Anywhere 2S
The Logitech MX anywhere 2s is oriented towards the frequent travelers who are looking for a reliable Mouse that will accompany them anywhere they go. From a design perspective, the Anywhere 2 is available in three different colors from which you can choose from such as the graphite the light grey and the midnight teal version. This Logitech Mx Anywher 2s is the best gaming mouse under 50 Dollar.
Although they have a different price tag. One thing that is shared by all of them is thought they are compatible with Windows and Mac computers.
This particular model has a compact and exceptionally lightweight body which means that you can even store it into your pocket. If your bag is full so you shouldn't worry about anything.
According to the users the mouse's surface is smooth which I particularly like. Due to the fact that even if your hands are sweaty you will still have a good grip and a great control over the unit.
In addition there are two rubber finger rests positioned on its both flanks with really cool geometric patterns. Which add a modern touch to its appearance so I have to admit that Logitech has once again done a really good job.
On the left flank above the finger rest you can find two back and forward buttons but you can reconfigure them any time you want. While at the top there are the four buttons such as the left and right button to scroll wheel and yet another button positioned below.
If you flip the mouse over you will notice a toggle button the center and the easy switch button. That is followed by three indicator lights which will notify you about your chosen mode.
For your information this model can be paired with three devices and that's why there are three indicator lights that will tell you which link is currently active. I would also like to mention that this mouse has an exceptionally responsive sensor which performs equally good on even in glass surfaces.
Finally the battery life can last up to 70 days on a single charge which is really long so I'm unable to find any remarks.
Overall if you're looking for a quality mouse that can connect to up to 3 devices then the anywhere 2S is the one for you.
Specification:
Battery: 500 mAh lithium-ion polymer battery
Weight: 107.63 g/3.8 oz (Mouse and Receiver)
Dimensions: 61.6 mm (2.4″) wide 100.3 mm (3.9″) long 34.4 mm (
Interface: 2.4 GHz, Bluetooth
Performance: real-time sensitivity switching 400 – 1600 dpi
Max Operating Distance: Up to 33 ft
Type: USB
Check Out Review Of The Best 2 in 1 Laptops Under $600
2. Razer DeathAdder Chroma " best cheap gaming mouse 2019 "
The Razer DeathAdder chroma is definitely one of the most sold and widely known gaming Mouse on the market. You've probably seen this name popping up while you were searching for a gaming mouse.
Let's get quickly into action in order to find out wire users satisfied by its performance. Visually speaking the chroma has an all-black organ amah construction wrapped in rubberized textures. Which will ensure that this unit will never slip off your hand on one side while on the other you won't feel any strains. Even if you've been seeing it for a prolonged period of time.
In addition this unit is relatively small Mouse and according to dozens of users regardless of your palm size you will have a great control over. The device which is always welcome for your information.
The DeathAdder chroma packs two side buttons and three buttons positioned at the top such as the left the right click in the mouse wheel which sits at the center.
Moreover, this unit is equipped with a 10,000 DP optical sensor which according to Razer can deliver a precise z-axis tracking to glass and tabletop surfaces which is truly amazing. But that's not all thanks to its sensor this mouse will allow you to move it with up to 200 inches per second while requiring only 50 grams of acceleration.
When it comes to the customization well you can program only four buttons tour the synapse software excluding the left-click button. While in terms of lighting you can adjust chroma scroll wheel and Razer logo to glow in 16.8 million color options the software will also let you set your preferred mouse sensitivity acceleration speed pulling rate.
Even calibrate this mouse to suit to a specific mousepad. I would also like to add that this unit is compatible with Windows and Mac computers. Except using it for gaming on your laptop you shouldn't hesitate to use it to stop gaming because of its top-notch qualities.
I strongly recommend you consider the Razer DeathAdder Chroma. If you're looking for an affordable yet exceptionally responsive Mouse that is equally good for professional and gaming purposes then this is The Best cheap gaming mouse.
Specification
Optical Sensor – 16,000 DPI4G
Acceleration 50g /up to 450 IPS
Weight: 105g/0.23lbs
Inches Per Second 200 and 50g acceleration
Ultrapolling: 1000Hz
USB connector: Gold –Plated
Chroma Lighting: 16.8 Million customizable color options.
3. Logitech MX Master 2S
The Logitech MX Master 2S is a multi-purpose wireless mouse. That combines a unique organ amah construction with unbelievably accurate tracking capabilities.
For a price that is affordable for dozens of users who seek Mouse with such quality. In terms of the design, this unit is available in three colors. But we've chosen the dark grey colored one because it got our attention the most, however, this doesn't mean that the light gray and the midnight teal aren't beautiful.
But exactly the opposite since everything is a matter of taste. This particular model has a rubberized textured body that is accompanied with metallic silver trim and a highlighted thumb grip. Which will ensure that users with different hand sizes can use it without any problem.
Another benefit that you will have thanks to the thumb grip is that you will have better control over the mouse without feeling fatigues after using it for hours.
So I think that you will love having such a device moreover at the top you will notice four buttons such as the left click the scroll wheel the right click. Yet another button that is located below the scroll wheel.
On the left flank there are two thumb buttons and yet another scroll wheel which I particularly favored. If you flip the mouse over you will find a toggle button and an easy switch button which will let you switch between three devices.
I would also like to mention that this unit has an integrated 4000 DP precision sensor that works virtually on any surface. Which basically means that you won't have any problems using it on a glass surface.
Since it is The best cheap wireless gaming mouse I'd like to mention that the battery life can last up to 70 days. When you see that the battery is running low all you have to do is to take advantage of the micro USB charging cable.
Before we end I'd like to inform you that this mouse isn't for left-handed users and for hardcore gaming. For productivity and casual gaming, it is more than capable.
If you're looking for a versatile Mouse that will never disappoint you with its performance. Then the Logitech MX Master 2S would be your choice.
Specification
Battery: Rechargeable Li-Po (500 mAh)
Weight: 145 g / 0.32 lbs (Excluding cable)
Dimensions: 0.7 in (18.4 mm) x 0.6 in (14.4 mm) x 0.3 in (6.6 mm)
Nominal value: 1000 dpi
Max Operating Distance: Advanced 2.4 GHz
Type: USB
Scroll Wheel: Yes, with auto-shift
4. Logitech G903 "Best Laptop Gaming Mouse"
The Logitech G903 is one of the best wireless gaming mice on the market. Regardless if you're a laptop gamer or PC gamer this mouse is capable enough to drastically improve your gaming experience.
Design wise this model is entirely finished in black which signifies it's gaming-centric purposes. Since we all know that gamers prefer aggression and dark colored devices for their battle stations.
The G 903 has a soft touch coating with gentle curves that are spread along its body with the intention to make your gaming experience comfortable on one side. On the other to ensure that you will always have a good grip.
For your information, this unit has 10 buttons in total and they are strategically positioned along the top the side and beneath the mouse itself. Which means that you won't have any troubles adjusting the mouse specs exactly as you want beneath.
The mouse you will also find the so-called pmw 3366 optical sensor which will offer you 0 smoothing acceleration and filtering across its dpi range that stretches between 200 to up to 12,000 at speeds as fast as 400 IPs.
I would also like to mention that this mouse is suitable for both left and right-handed users due to its configurable button layout. Without a doubt, I think that you will love having such a device.
The G 903 uses the so-called light speed wireless technology which will offer you a report rate of 1 millisecond. Which is indeed awesome so you shouldn't worry about anything.
When it comes to the battery life Logitech claims that you can expect to have 32 hours of usage without lighting effects or 24 hours of regular usage on a single charge which is truly insane.
Since I've mentioned the lighting I'd suggest you take advantage of the Logitech Gaming software. Which has an intuitive interface and dozens of functionalities that will drastically improve your gaming experience? Overall the Logitech G903 is worthy of considering so give it a try and assure yourself of its quality.
5. Razer Basilisk
The Razer basilisk the Razer basilisk would be an extremely good option for you. Especially if you want to invest in a gaming mouse that is capable enough to elevate your gaming experience to a whole new level.
Without having to spend a huge amount of money from a design perspective the basilisk boasts a typical aggressive Razer look composed of restraint curves and all black body and a Razer logo on the palm.
It as a whole it looks pretty good but what makes this unit different from the other Razer models is the presence of the thumb rest. Which will offer you a place for your thumbs in this by default means that you won't feel The strain. The other thing that makes it different is the removable clutch handle that sits next to the thumb buttons.
If you ask me I do really like the clutch especially when I want to snipe for your information the basilisk is equipped with eight programmable buttons including a left-right scroll back forward the sniper clutch and the scroll wheel they are indeed quite many.
The mouse's switches are mechanical and according to Razer, they can handle up to 50 million clicks which means that you wouldn't have to invest in another Mouse for a longer period of time.
When you flip the mouse over you will notice the 16 dpi optical sensor that will offer you movement speeds of up to 450 inches per second with a resolution accuracy of 99.4% according to Razer.
Most of the user's claims aren't far from this statement as well. Before we end I'd like to suggest you use the Razer synapse 3.0 software in order to customize the buttons adjust the DPI set macros set the RGB lighting and even calibrate the mouse for different mouse pads for your ultimate experience.
To conclude the Razer Basilisk is a must-have for everyone. Who is looking for an exceptionally capacitive gaming mouse that will never let you down with its performance?
Final Words On Cheap Gaming Mouse:
If you're Thinking to buy the best cheap gaming mouse, Specialy we recommend either the Logitech MX Anywhere 2 or Logitech MX Master 2S. These Mice are the Best gaming laptop mouse for beginners at an a reasonable price.
Always Think that when you are buying something valuable like a Gaming Mouse the idea of a great Gaming Mouse will be different for each individual. Actually, It's depending on your Fashion, different features and also on the style.
If you have any questions about the best cheap laptop gaming mouse, feel free to contact us. We will try to best solve all your queries and confusions