The definition of digital marketing has been misrepresented and misinterpreted for a long time now. The term is not that vague than you think it is. Digital marketing refers to any type of marketing for services and products with the use of electronic devices.
And, this process of marketing products and services is nothing new. It came into existence from the time when electronic devices were introduced in our lives. Another misconception related to digital marketing is that it is all about social media marketing and content marketing. Though these are the types of digital marketing that plays an important role in promoting your products and services, they do not cover the entire phenomenon of digital marketing.
This blog talks about the different types of digital marketing and how it matters in pour daily lives.
Types of Digital Marketing
1. Search Engine Optimization or SEO
Undoubtedly, SEO has to be on top of the list of types of digital marketing. SEO or Search Engine Optimization is a type that connects to almost all other branches of digital marketing. It is a technique that works to improve your sales/business by optimizing your website for search engines like Google. It focuses to take you higher on the SERPs (search engine result pages), ensuring better visibility and boosting web traffic.
As a reader or a person seeking a specific service or product online, do you care to go to the second page of Google? Most probably, NO. Now you know, why SEO is so important for people who want to generate more business or sales through online searches.
However, SEO is not a quick fix for anything. You have to be patient to see the results. And as a digital marketer, it is your responsibility to inform your client that SEO takes time to yield results.
SEO involves different aspects such as ranking analysis, keyword research, etc. to determine how fair you stand against the competitors. Then, your SEO specialist will optimize your website and its content for the search engines, The process also involves building quality links to and from your website for allowing the search engine to crawl your website more frequently. Search engine crawlers or robots crawl your website to collate and index the data on its result pages. Now, when a person uses a relevant search term, the search engine will show up your website as a result.
SEO is a long-term process and required regular work and effort. The goal is to reach the top 3 positions on the SERPs. Remember, it is not a quick fix.
2. Social Media Marketing
Social media is an important platform for marketing today and for all valid reasons, It is not going anywhere for the coming years and has got a great influence on a majority of the world's population. It plays a great role in our daily lives as we spend most of our time on the platform. So, why can't it be a good platform for your digital marketing campaign?
Want to market your products or services to a larger audience, nothing goes ahead of the social networking platforms like Facebook, Twitter, Instagram, YouTube, etc. You can market your brand to a wider audience by posting relevant, impressive, engaging and informative content/posts on your social media pages. It is even possible to advertise your products and services directly on social media.
You can create your brand/company page on Facebook, Instagram, LinkedIn and Twitter and promote your product and services directly to your target audience. Through social media marketing or say your social media page, you can drive visitors to your website as well. Eventually, improving your website traffic and sales.
Remember, you need to create posts that attract visitors and make them take an action, like making a query, reaching out to you through your website or making a call to your business.
3. Pay Per Click (PPC) Advertising
PPC or Pay Per Click Advertising is much like a paid version of Search engine optimization (SEO). The difference lies in the fact that you don't optimize your website, prioritizing search engine, but bid for advertising space for particular keywords on the search engines.
The bidding process in PPC involves complex algorithms on the side of the search engine result page. However, you got to prioritize a few important aspects as an advertiser, such as the expected CTR (Click Through Rate), formats, quality of adverts and of course, the bid amount.
Considering the combination of all these aspects, your advertisement might get an "Ad Rank". Now, what is an Ad Rank? It is the place your advertisement will be placed if it at all gets placed on the search engine. Your advertisement competes with other advertisements to get an Ad Rank.
Extensions are an essential factor in PPC as it allows the viewers of your advertisement to take particular actions, Suppose, you have added a call extension in your advertisement, the viewer can click on the extension reach out to you directly. They are useful as they make your advertisements look customized and add additional calls-to-action. Moreover, they also boost your chances of getting the advertisement featured on the search engine.
Note: Search engines consider advertisements with extensions as more genuine over the ones without an extension.
If you want to advertise your brand on Google, you need to sign up for a Google AdWords account.
4. Content Marketing
The next on the list of types of digital marketing is Content Marketing. If you have some idea of digital marketing, you must have heard about this. Well, not so similar to other marketing styles where you directly promote your products and service, content marketing rather works for enriching user experience by creating valuable and engaging content.
There are reputed brands that focus on developing blog posts, videos and images relevant to their business. These posts are both informative and entertaining for the viewers. This way, they establish their business as a brand.
Content marketing is more about promoting your business as a brand and not directly aiming to sell anything behind those posts. You are simply providing information about your business in an engaging and interesting way.
By posting videos, blogs and images, you maintain a loyal customer base that lands on your website for content that connects to them. Be it an informative blog or video about your business or just some essential industry knowledge, your visitors or customers reach out to you. They appreciate the effort you put in every video or blog you post on your website.
Through content marketing, you get to know what your customers expect and what they like about your brand. When you publish effective and engaging content on your website, you drive higher web traffic and ultimately more business.
Content marketing is a long-term and continuous investment that yields better results when done regularly.
5. Influencer Marketing
Next on the list is Influencer Marketing. Not many people have heard about it, but it is gaining property across the marketing industry. It is an incredible way to increase your audience by getting someone having a large following on social media, to endorse your brand. It is a type of marketing also employed outside the digital circle. Consider the brands sponsoring sports stars. When you get a famous person or influencer to endorse your brand online, you develop a pathway between your audience and theirs, encouraging them to look at your service or product in detail.
No matter, if you are a large or small brand, you can adopt influencer marketing. If you are a smaller brand, you do not need to use an influencer with millions of followers, you can reach out to one with a few thousand loyal followers within a relevant field. This can also bring you incredible value.
Note: The more personal and loyal is the relationship between the influencer and their fans, the more chances you have of getting higher CTR (click-through rate).
6. Public Relations Content
This is another type of digital marketing that is not restricted to digital platforms. However, it is still a significant type. Tell us, as a potential customer yourself, what would you prefer, a compliment from a person regarding a product or service or an advertisement? You know what we mean.
It is a human mentality that we believe in reviews more than advertisements. And, this is what PR Content focuses on.
To use this digital marketing technique, make sure you include a relevant digital content platform in your marketing strategy on which you can be featured. Mainly, PR is helpful for smaller brands and businesses who are trying to build a reputation in the industry. So, if you are a smaller brand looking for better recognition, being endorsed by a reputed source can be your high source of growth.
You can ask your clients or customers to give a review on a digital platform like Facebook or Google as people rely on Google reviews too. To ensure that they do end up posting a review, give them some perks as well. Like, you can offer them a free sample of your product or a discount on your service. But ask them to give you an honest review, only ratings won't work.
7. Email Marketing
Though email marketing is not so popular anymore as compared to other modes of digital marketing, it is still helpful in communications. You can use email as a medium to communicate with your potential and existing customers. The best way to do this is through newsletters. Create an attractive and informative newsletter and an impressive sign-up form for your newsletter on your website for the visitors to fill in.
Once they sign-up to your newsletter, you can keep them updated about your products and services, as well any exclusive deals you launch or offer.
In exchange of the sign-ups, you can also provide them with a value offering. Generally, eBooks and free downloadable guides are offered in exchange for the email address. One of the reasons why this technique works is it excites your reader or visitors to give you the email address. And, we know how our inboxes remain overloaded with unnecessary mails, so people don't want to give away their email address for free.
Email Marketing has got some intuitive features – ability to personalize messages and giving the recipients an option to stipulate what they connect to the most/what interests them. These features make sure that there is a streamlined communication portal to fit the individual needs of your customers. And, we know that everyone has an email and connecting to them has become easier now.
However, if you want email marketing to work for you, you need to provide valuable information in your newsletters. Or else, your messages will be ignored by potential customers or subscribers. Provide them with interesting imagery, content and links within the newsletters.
8. Mobile Marketing
The next on the list is mobile marketing. Do you know around 45% of all shopping is a result of mobile interaction? Why not take advantage of this medium in marketing your products and services? Through mobile marketing, you can create mobile-specific marketing campaigns, that perform better than other general campaigns.
Mobile applications are increasingly popular these days and having a mobile app for your business can help you drive more sales. Most people like the simplicity of an app over browsing through a mobile site of a brand or business.
You might find it a complex task to create an app, so better hire someone for the job. Once you have the app ready, you can drive increased sales and customer base by providing them special deals and discounts.
9. Brand Journalism
A harsh reality in the world of marketing is that consumers are noticing consciously when they being advertised to a certain product or service. Those cheesy grins and catch-phrases do not work the way it did in the past. If you are a marketer, you got to find a better way out to convince potential consumers to buy your services and products.
This is when brand journalism comes to the scene, one of the marketing techniques that is gaining popularity and for all the valid reasons. Brand Journalism is all about creating content that the target audience finds innovate, interesting, with less forceful calls-to-action within the content. This is a process that develops a mutual connection of benefit between both the parties. Your consumer receives interesting content and you on the other side, get to promote your business or brand.
For genuine brand journalism, you must ensure that the content you create is for the target audience, covering all their interests rather than just talking about your products.
10. Video Marketing
Coming to the next type of digital marketing on the list, Video Marketing is a popularizing mode of marketing. Over the years, video has become a crucial type of digital media. By blending imagery and written content into an informative and engaging video, you can reach to the target audience.
You can post informative video content on your website and social media pages or advertise your product or brand on video sharing sites such as YouTube. Most popular brands or businesses have their dedicated YouTube channel where they share interesting videos that connect with their audience and keep them hooked till the end as they promote their product with subtlety.
This is how you need to get your video marketing technique executed. You can take the help of an experienced professional for the job.
11. Audio Marketing
Audio media is not as popular as video media, but it does make an impact in the online ecosystem. Consider how podcasts took over traditional talk radio and music streaming sites like Spotify and Gaana are getting popular.
Brands have also reached creating audio advertisements on these online platforms and it has been proved effective. You can market your services and products on audio sharing/streaming websites, as the podcasts are considered more personal than a conventional radio talk show, the advertisements played in between are also considered authentic by the listeners, especially the ones read out by the podcast host.
12. Affiliate Marketing
Affiliate Marketing is a well-known and clever kind of marketing that is prevailing across the digital world. In affiliate marketing, you promote or sell other people's products to their target audience and earn commission on each sale. When you make a sale, say a person buys a product from your affiliate link, you earn a commission.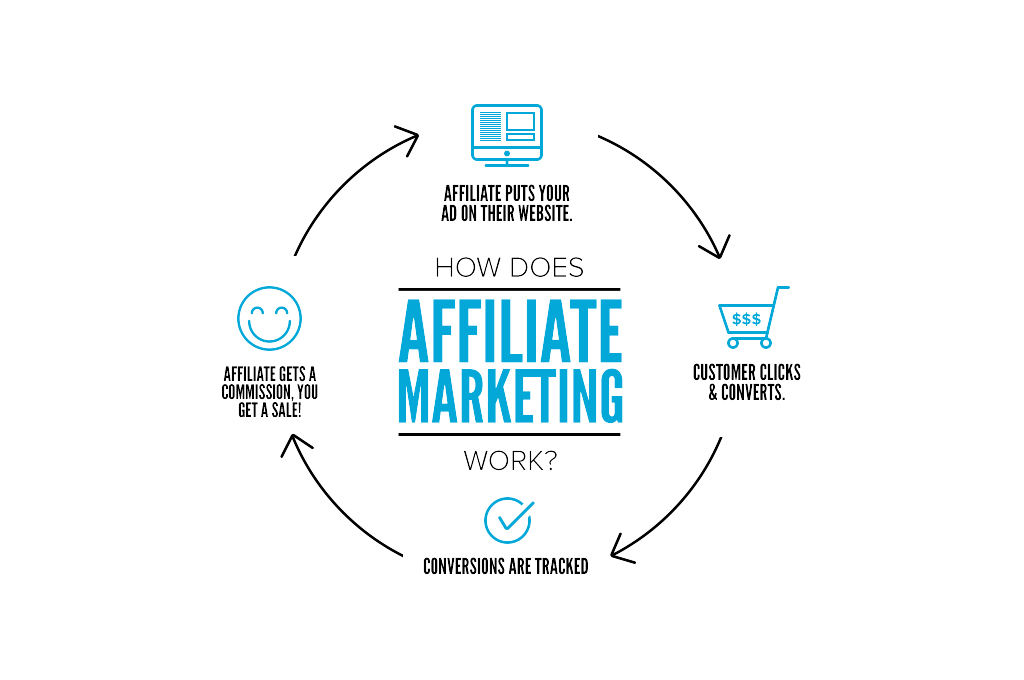 It is a kind of digital marketing that focuses on the benefit of both the parties, the affiliate and the original seller. Working with affiliates can help you reach a larger audience and that too substantially. You might not know but your affiliates (if you are the main seller who wants to increase sales) have reached a larger audience. So, do not miss this opportunity! You can also become an affiliate to earn lots of money with the commission per sale strategy.
There are different types of affiliate marketing – some deal in physical products and some digital products. You can choose what suits you best.
13. Native Advertising
Have you come across anything more annoying than the pop-up advertisements? They interrupt and spoil your online experience. It might even startle you when the add includes a video or sound. Therefore, there has been a rise in native advertising, Native advertising is the ads that are placed organically within websites and articles, rather than distractingly in the sidebars that draw the attention away from the main content of the web page.
Your customers will only give attention and time to your advertisement when they are not annoyed by them. So, make sure you are subtle in your actions of placing advertisements on webpages. Always try placing visual advertisements natively. The pop-up advertisements are no more valued and attended over the development of the Internet. They are considered fake and spammy, whereas native ads are valued as an authentic advertisement.
14. Augmented/Virtual Reality Marketing
AR (Augmented Reality) and VR (Virtual Reality) are among the most interesting developments in technological circles right now and contribute to digital marketing as well. When you are able to intrinsically immerse within the media you consume, it becomes a fascinating prospect. It offers you various opportunities for carrying out effective digital marketing techniques.
One of the examples where augmented reality is used is the marketing techniques of the popular furniture brand, IKEA. It allows the consumers to see how the furniture will look in their homes. Well, not many brands and businesses are using AR and VR yet, but it is definitely the future of digital marketing.
15. Instant Message Marketing
We know how obsessed people are with instant messaging apps, such as WhatsApp and Facebook Messenger. While there are not many advertising opportunities on WhatsApp yet, it has already announced WhatsApp Enterprise. The product is under development and testing as per the report.
Through WhatsApp Enterprise, businesses will get to communicate information such as new products, special deals, etc. directly to the customers. Users will receive direct messages the same as the newsletters to emails.
Talking about Facebook Messenger, it can also host advertisements on the mobile platform. Businesses can use Facebook Messengers in collaboration with Facebook advertising to reach and communicate with the customers.
As instant messaging apps are getting updated with marketing versions, instant message marketing will also become popular among marketers and consumers.
Conclusion
Digital Marketing Agency is any kind of marketing on a digital platform and it is the main source of sales and income of online businesses and brands. Now that you know the different types of digital marketing and how they work for your benefit, you can implement the ones that are relevant and suitable for your business/brand.