Whether you're a beginner in graphics designing or expanding your graphic designing skills, you always need some essential tools and gadgets to get the job done. Being a designer is not about having the latest tools, but it's necessary to understand their performance so that they're worth investing in the best gadgets and devices. Here're seven must-have gadgets and Graphic design tools for beginners in this guide that will help increase productivity and work more creatively.
Top 7 Graphic design tools for beginners: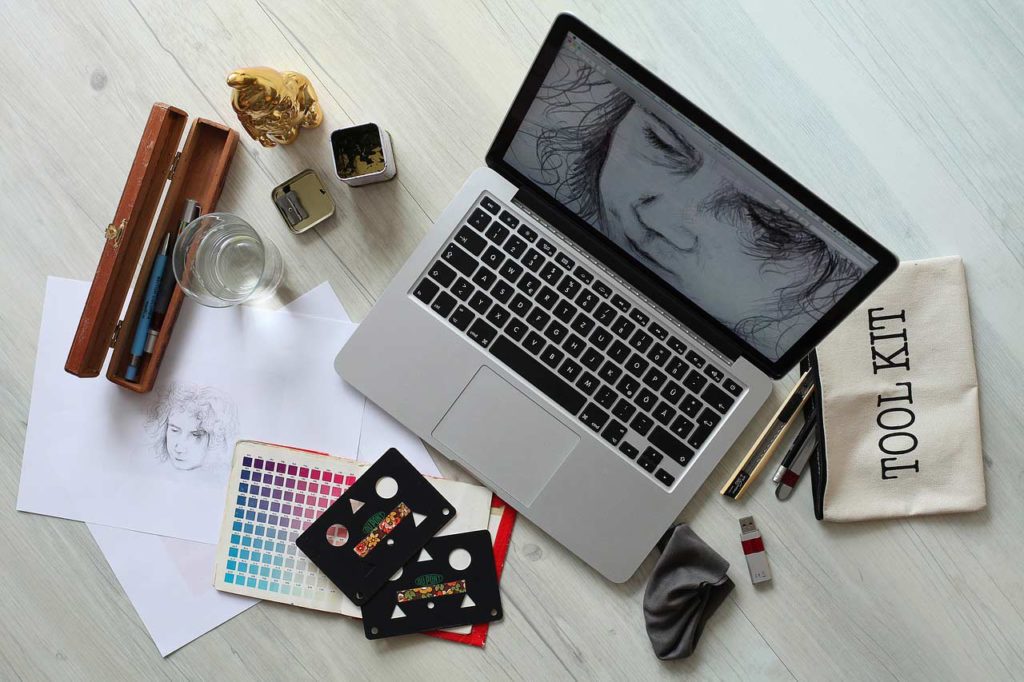 1. Laptop
When it comes to graphic designing, this is an essential tool used in getting the work done. I recommend a laptop because of the portability. However, desktop computers are also suitable for graphic design work, but you'll not carry it while working. A good configure laptop is the primary gadget of Graphic design tools for beginners. There are many laptops for graphic design, but if you're serious about your design work, I recommend the Apple MacBook or iMac, the top favorite for graphic designers.
Apple Macs are an excellent choice for high-end performance, exceptional color accuracy, High-Speed Internet, and spectacular graphics. However, with so much to give, it comes with an expensive price tag, not everyone can afford it. But if you want to become a professional graphic designer, don't mind spending a few extra dollars on getting the best value.
2. The Right Software
You can't do your graphic design work without using the right software. This is another essential requirement that every graphic designer need to have in their PC or Mac. Adobe Creative Cloud is the industry standard for a professional graphics designer. It is the best visual design tools for beginners. It provides all the necessary tools such as Photoshop, Illustrator, and InDesign, to shine your project.
One of the most popular plans of Adobe Creative Cloud available at $49.99/mo. You'll get access to 20+ desktop and mobile apps, including Photoshop and Illustrator.
3. Graphics tablet and stylus
Graphic design tablets are an input device that can be used to substitute a mouse. If you have been working as a graphic designer or planning to start, you may have heard Wacom. It is one of the most popular graphic design tablets, which gives you the power of multi-touch gestures and accuracy.
Wacom drawing tablets come in different ranges based on their shapes, sizes, and features. If you want to get a little more advanced with your work, get the wireless version, and enjoy the smooth workflow.
4. Quality sketchbook or notebook
Professional graphic designers will be using laptops or desktop computers to complete their design work. But sometimes, there is no substitute for putting pen to paper in your favorite sketchbook. These are a great way to implement your brainstorming ideas before giving them the final touch.
For this, I recommend the Moleskine sketchbook, which is a budget-friendly solution to a professional graphic designer. These sketchbooks come in various colors and designs; you can choose any of them based on your requirements.
5. A good DSLR camera
Having a good DSLR camera is one of the simple habits of zealous designers. However, most modern smartphones can capture decent photos to use for reference material. But if you are working for a magazine or newspaper, it's worth investing in a quality camera. Must a good DSLR camera is the most popular graphic design tools for beginners and non-designers also.
Buying a DSLR is not cheap, and professional designers can go as high as $10,000. However, there're some best cameras under $300-$500 available in the market, fulfilling all your creative needs.
6. Pantone Swatch Book
If you're doing a lot of print work, it's essential to use the Pantone swatch book to encounter spot-colors. Pantone is a standardized color matching system in which you can quickly identify a color using the Pantone numbering system. This swatch book contains more than 3,000 color variations with the spectrum of spot-colors alongside their closest CMYK match (Cyan, Magenta, Yellow, and Black).
7. Calibrated Monitor
As a graphic designer, it is essential to ensure your color workflow is correct or not. Calibrating your monitor is not a difficult task, but it requires a unique tool. Calibrated Monitor is an essential gadget that helps you adjust your monitor's color and brightness to a known standard. It is the only way to ensure complete accuracy when moving from print to screen. Calibrated Monitor is a Graphic design tool for beginners used to create beautiful visuals.
I recommend using Datacolor Spyder5ELITE monitor calibrator, including grey-balancing and room light monitoring to find optimal monitor brightness.
Final Words
As a graphic designer, you'll find a wide range of tools and gadgets in the market. However, before buying any device, it's essential to understand your requirements and whether they can make your work more comfortable or not because it's worth investing in the best kit you can afford.
Being a good designer doesn't mean buying in into all gadgets. Find what is useful and how it will help in your work to deliver the best results. Also, ensure that you are using the right software compatible with your gadgets and tools, and gets the job done.