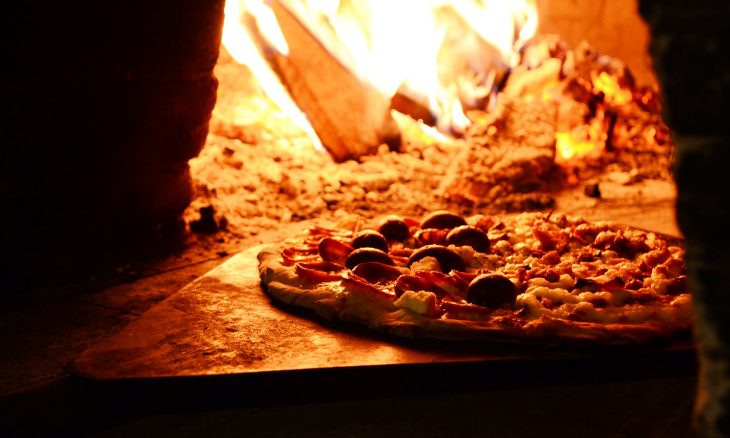 Pizza. The name alone conjures up images of stringy cheese and delicious toppings. We all have our favourite pizza place when the craving hits, but what if you could make your own at home in your very own pizza oven? Not only will it save you money in the long run, but you will also be able to spend time with your family and friends thinking up new recipes or trying out recipes that you have found.
Just imagine your friends and family gathered outside on a beautiful summer evening. The kids are swimming, and the adults are all enjoying an ice-cold beer or glass of wine. Everyone is relaxed as music plays and the smell of baking pizza fills the air. Fortunately, this doesn't have to be just a daydream you can now have a pizza oven installed and enjoy all the benefits it has to offer.
Choosing the perfect pizza oven, however, can seem like a daunting task, that is why we are here to help. No matter what your needs, the perfect oven is out there to make your culinary dreams come true.
1. Size
Deciding on which size oven to get will all depend on a few things that you will have to take into consideration. How many times a week are you going to use it and how many people are you planning on feeding when using said oven? The size will all come down to the number of pizzas you will want to make at a time.
A small pizza oven will have a baking chamber that is small and typically where you can make one pizza for your small family. If you are looking for a larger pizza oven to make more than one pizza in then make sure that the baking chamber is big enough.
2. What Material Should I Use
Deciding on the material you want when choosing your pizza oven will affect the price, quality and also what the aesthetic will be.
If you're opting for brick, then you are going for a material that is very fuel-efficient and retains up to 85% of the heat that the wood fire generates. This is a very cost-effective material and is one of the more popular choices when taking things into consideration for a pizza oven.
If you are thinking of using stone, then keep in mind that it can become very costly. It is similar to brick when it comes to heat efficiency and is mostly chosen because of its aesthetic.
Cob is made for clay, sand and straw and is natural building material that is also an option when you are planning on getting a pizza oven. It is cheap to make and very fuel-efficient, although it is not as popular as other building materials.
When you've taken everything into consideration, here are a few really good options to choose from:
1. Traditional Original Model
This pizza oven is perfect the small family who feel like relaxing outside after a long week.
2. Traditional Courtyard Model
Another pizza oven for a small family. The best part is you can decorate your outdoor kitchen to match your new oven as well, creating the perfect space outside to relax and unwind.
3. Traditional Midi Model
Is an in-between pizza oven model that be used indoor as well as outdoors. So if having a pizza oven outside is not ideal for you, then this might be the oven for you.