Popular as Bill Nye the Science Guy, Willian Sanford Nye is a scientist, educator, engineer, author and inventor, comedian and television presenter. His main goal in life is to make science available to everyone, both kids and adults. He always wanted to make the learning process of science fun, entertaining and exciting.
Going by his appearance, Nye is a tall, lanky man, having an uncanny resemblance to Steve Martin, the actor and comedian. He likes wearing bowties and bears. The Science Guy as he is known started his career in mechanical engineering and also tasted the fun of being a comedian before becoming the Messiah of Science for both kids and adults and being acclaimed as the 'Science Guy'. Interesting, isn't it?
This blog is about such interesting and surprising facts about Bill Nye the Science Guy. We have also thrown some light on his effort to spread awareness about the Coronavirus or Covid-19 outbreak in the world. So, you will get to know a lot about the Science Guy here. Stay glue and keep scrolling!
Before moving to unveil the facts of Nye's life, let us know something about his early life and his parents.
Bill Nye the Science Guy
Born on 27 November 1955, in Washington, D.C., Nye grew up in the Capital with his parents. Both his parents served in the U.S. Military and were active during World War II. Jacqueline Jenkins, his mother was a code breaker and Edwin Darby Nye served in the U.S. Navy. He also spent some time in Japanese prisoner-of-war camps.
Edwin made sundials to know the time while he was a prisoner. This inspired Bill's fascination with sundials later. Bill attended the Sidwell Friends School. In school, he tutored several fellow students in mathematics. He discovered his talent and interest in teaching during his childhood.
Interesting Facts About Bill Nye
Nye went to Cornell University
Bill Nye attended college at Cornell University in Ithaca, New York, where he pursued Mechanical Engineering and passed out in the year 1977 with a Bachelor's degree.
He worked as an Engineer for years
Post his engineering degree from Cornell, Nye worked as an engineer on first being recruited by Boeing Corporation in Seattle, Washington. He worked there on airplane design. Other than Boeing Corporation, he also worked for other engineering firms in the Seattle area.
He has got multiple degrees
Not just one or two, but Nye has got 6 honorary doctorates degree other than his Bachelor of Science degree from Cornell University. The doctorates are from 6 universities – John Hopkins University, Rensselaer Polytechnic Institute, Goucher College, Lehigh University, Quinnipiac University and Willamette University.
Nye loves bikes
Bill always had an inclination towards bikes. When he was not studying as a young lad, Nye went out to ride a bicycle or taking apart one to know how it worked. His fascination with bicycles and mechanical machines, such as airplanes inspired him to pursue a degree in mechanical engineering. Even as an adult, Bill works on bikes.
He got his nickname first on a Comedy Show
While living in Seattle and working for Boeing, Bill Nye started his side-job as a comedian. He began writing and performing stand-ups post work at night. In the year 1986, he took a job as a comedy writer and performer on a local comedy program. "Almost Live" was the local comedy program where he was first seen as 'Bill Nye the Science Guy.'
His series has won several awards
Bill's popular 'Bill Nye the Science Guy' TV show that telecasted from 1992 to 1998 won seven Emmy Awards for performing, writing and producing the series. Overall, the series bagged 18 Emmy Awards!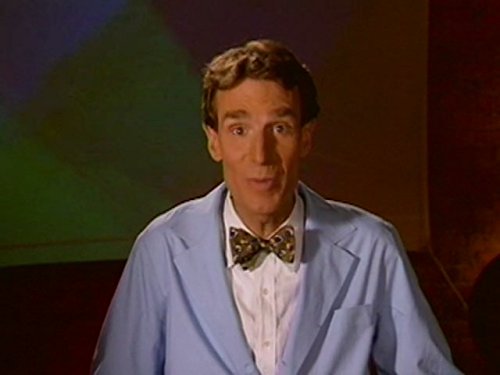 His lab coat is on display
The lab coat he wore in the show, "Bill Nye the Science Guy" is on display at the Smithsonian National Museum of American History.
Bill is a science activist
Nye has done a lot in support of science. As a science activist, he was a co-chair of the March for Science inaugural in the year 2017. It was a series of rallies and marches that held across the world. It advocated for governments to address climate change by mandating science-based policies. Over 1 million people marched in over 600 cities. The March for Science has organized over 1000 public demonstrations by now.
He is highly passionate about Math and Science education
Bill has a strong belief in teaching kids math, science and critical thinking. Nye aims to put a full stop to the spread of anti-scientific thinking. According to what he believes, this awareness starts in schools.
He has written Science books for kids
Bill has written almost 8 books for children on science and the natural world, for kids of middle school. His books include topics like dinosaurs, oceans, germs and tropical rainforests. His "Jack and the Geniuses" series features three kids who use engineering and science to solve mysteries.
Nye is a New York Times Best-Selling author
Not just for kids, but Nye has also written books on science for grown-ups. And, the most amazing thing is all the three books he wrote are New York Times bestsellers. His first book for adults was a result of a debate Nye had with a creationist who told that the world was just 6000 years old. After this debate only, Nye wrote, "Undeniable: Evolution and the Science of Creation". The book covered the discoveries and principles behind the theory of evolution.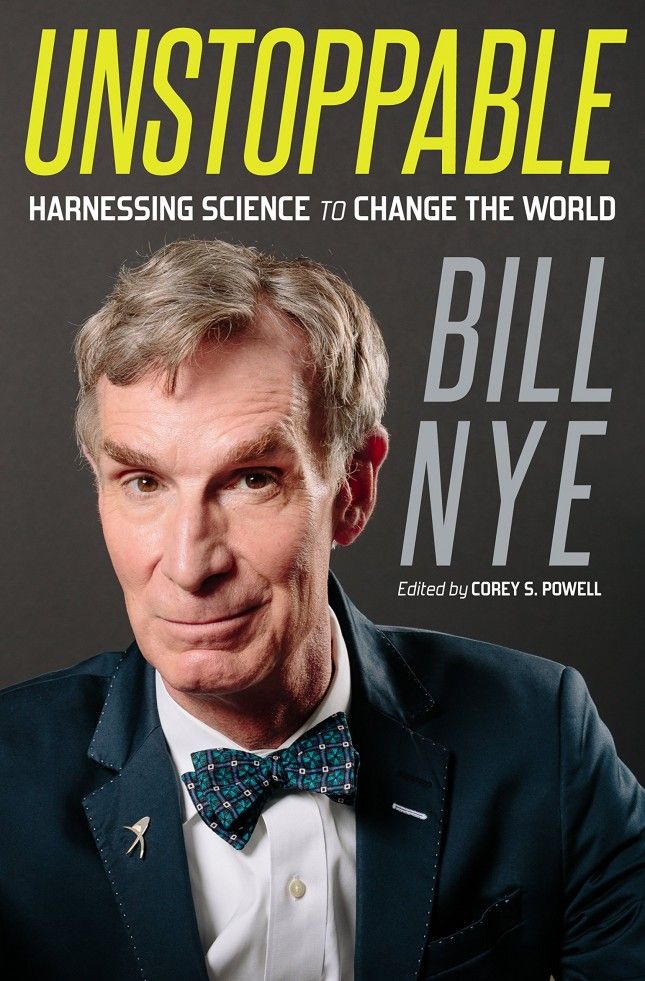 The next two books by Nye were "Unstoppable: Harnessing Science to Change the World" and "Everything All At Once: How to Unleash Your Inner Nerd, Tap Into Radical Curiosity and Solve Any Problem."
Bill is an inventor
When he worked as an engineer in his first company, Boeing, Bill invented a part of an aircraft – a hydraulic resonance suppressor tube. It is still used on the 747! Nye also holds patents on a more supportive pointed shoe for ballerinas, an abacus that does math the same as a computer using binary numbers, a collapsible lens that fills with water forming a magnifier and a device that makes picking up baseballs easier.
He has an urge to save the world
In 2017, another series of Nye by the name, "Bill Nye Saves the World" was released on Netflix. The show focuses on adults, throws light on the scientific approaches to tackle climate change and several other issues – from aging to addiction to food. Bill brings scientific experts on the show to talk about science and the issues.
He has been both a real teacher and a fictional teacher
It was not just in real life that he played a teacher – Frank H.T Rhodes Visiting Professor at Cornell University. Bill has also played a fictional character of a science teacher on "Numb3rs", the TV crime drama.
Bill loves outer space
Nye is the CEO of the Planetary Society currently, the largest non-profit dedicated to space exploration in the world. The co-founder of Planetary Society was Carl Sagan, a famous astronomer who founded the society in 1980 to advocate for educate people, advocate planetary science and space funding, finance and develop new space technology and science.
Carl Sagan is his inspiration
Bill Nye's Space inspiration is none other than Carl Sagan, the great astronomer. It happened after he attended an astronomy class by Carl.
He helped develop the MarsDials
Like his father, Bill also had a fascination for sundials. Nye helped develop the MarsDials for the Mars rovers Opportunity and Spirit. These sundials are designed to calibrate the cameras, detect the Sun's position in the Martian sky and have a message engraved, "To those who visit here, we wish you a safe journey and the joy of discovery."
He has a documentary film made on him
Nye is the subject of a documentary film! He was filmed in "Bill Nye: Science Guy". The film debuted at the Southwest Festival 2017, Austin, Texas's South. It was also shown at AFI Docs and HotDocs, the Los Angeles Film Festival, before getting to the theatres and airing on PBS in the same year.
Nye's Contribution to Covid-19 Outbreak
Being a teacher and promoter of science on Television, Bill Nye made sure he made a worthy contribution to the situation on the novel coronavirus outbreak. And as always, he came up with a great plan!
With the help of some top reporters and famous epidemiology experts, Bill Nye, the science TV personality launched a series of episodes of "Science Rules! With Bill Nye" his famous Sticher podcast. This podcast is dedicated to explaining all the crucial information on coronavirus and the deadly disease it has introduced all of us to – COVID-19.
Science Rules! With Bill Nye
It is a three months series, published every Tuesdays and Fridays. The show features doctors and reporters who are on the frontlines of the pandemic. It also brings the experts working on the development of a vaccine and also the ongoing analysis of the economic impact and even the regular listener Q&A episodes.
According to Nye, the series will offer a fact-checked analysis on all the latest news on the pandemic to ensure the listeners are informed, prepared and calm.
"During this unprecedented public health crisis, it's important that people get good information, so they can make good decisions for themselves and their families; it's vital," Nye said. "We're working to help our listeners cut through the confusion and learn about the situation from trustworthy experts. The show features expert analysis and questions from our listeners; it helps us focus the show on what's important for all of us. We can get through this. It's going to make good decisions based on good science."
Where to watch the show?
Talking about the first three episodes of "Science Rules! With Bill Nye" on coronavirus, you can watch them on the Stitcher app and on platforms publishing podcasts. Dr. Michael J. Mina joining Bill on the situation of Covid-19 testing. Other popular researchers and doctors to join the Science Guy are Adam Kucharski, a Bio-statistician who makes sense of the data on the pandemic and precautions. Bill also got Dr. Celine Gounder, an epidemiologist to ask questions from the listener mailbox and share her experience of being at the frontline at the Bellevue Hospital in New York.
Stitcher's Chief Content Officer, Chris Bannon said, "Bill Nye is exactly what people need right now – smart, curious, funny and someone who believes that facts are important and science rules! At Stitcher, our mission is to create content that entertains listeners and lifts their spirits while keeping them well-informed. Thanks to his years of building trust with his audience, Bill has a unique ability to deliver that."
To share your experiences of the 'still not in control' pandemic, you can leave Bill Nye a voicemail about how you are coping and how do you feel about all this.
Conclusion
Bill Nye the Science Guy is a popular scientist, teacher, engineer, TV artist and inventor who is known for his great work in the field of science. He has done a lot and continues to contribute to spreading awareness about science among kids and adults across the world.